Instagram Shop; How To Set up a Shop on Instagram
An Instagram shop allows customers to shop directly from their profiles. To start up with Instagram shops, all you need is to create a business account.  This lets you integrate a product catalogue with your Instagram profile. As a consequence, you can promote your products on the social platform through stories, and posts through either the special shop or explore tabs.
With the number of entrepreneurs using Instagram to promote their products surging each day, the importance of Instagram shops in the current business environment can not be underscored. The introduction of Instagram shops lets you keep up with the current trends in the e-commerce sector.
If you are just starting with E-commerce and have a limited budget to set up an e-commerce store then an Instagram shop is a perfect option. Considering that the number of Instagram users has more than doubled over the years, setting up an Instagram shop has the potential to generate more customers for your business.
The good thing about the Instagram shop feature is that it allows users to tag products on posts just the same way one would tag a friend. This adds a shopping bag icon to an image. The product pages on the Instagram shop usually feature every detail that customers may need to know about your products.
 But what is an Instagram shop? How can you set it up and how can it help grow your business?
What is an Instagram Shop?
Just like an e-commerce website, an Instagram shop is a free tool that allows customers to access and buy your products on the internet space. Launched in 2019, the Instagram shop feature lets businesses sell products on Instagram through photos, reels, videos ads, and stories.
This allows customers to buy your goods through Instagram's in-app browser without being redirected to a different window. If you are running an ecommerce business, Instagram is an ideal platform that you can use to make it easy for you to sell products and find customers without having to leave the platform.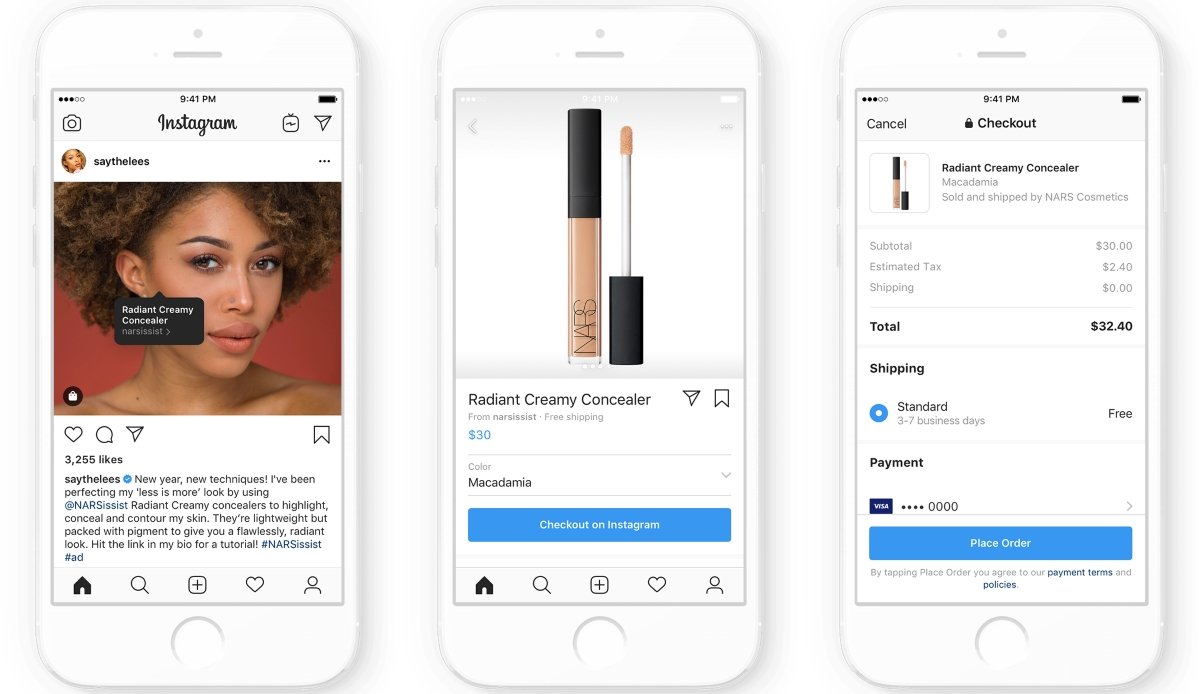 How To Set up an Instagram Shop.
#1.Create a business account
Aside from providing you with shopping features, a business account gives you access to important analytics that you need for your business. The good news is that the feature is free.
#2.Link to a Facebook Page
The first thing you need to consider when creating an Instagram account is how to link it with a Facebook page.
#3.Upload Product Catalog
This stage entails uploading all your products. You can either upload products manually through the Facebook business manager or integrate a credible product database like Big commerce or Shopify.
#4.Submit  Your  account for Review
Once you have created the shop and added products, you can submit your account for review. The review usually takes a couple of days to get approval. 
After passing through this stage, you can create posts and shopping stories to reach out to your target audience. Other actions that you can take include creating an Instagram live shopping stream. This enables users to sell products during an Instagram live broadcast.
Alternatively, you can create Instagram shopping guides that allow users to promote products with a bit of an editorial angle.
Now that you have stocked your Instagram shop, you can invest time and effort in creating eye-catching posts to capture the attention of the target market.
Some of the elements that you can consider to appeal to the target audience include creating striking images, using a promotion code, blending attractive colours, and showing your products in action.
To improve brand visibility on Instagram, you can leverage hashtags and establish a signature style that will distinguish your products from others. With a consistent aesthetic, you not only improve brand recognition but also stamp your authority in a competitive business environment.
Now that you understand how to create an Instagram shop, here is how to get started with an Instagram shop.
Create Fun Reels 
Even though most people are still unfamiliar with Instagram reels, you can take advantage of its popularity to share engaging videos and showcase your products. Similar to Instagram stories or shoppable posts, you can tag along with products with reels to enable customers to buy directly from it.
Leverage Hashtags
Just like any other typical business, hashtags are ideal in not only targeting the right audience but also expanding the scope of your audience. Aside from making it easy for your products to appear on various hashtag searches, using hashtags correctly improves the visibility of your products on the explore and shop pages.
Influencer Marketing
You can leverage the Instagram shop feature to partner with influencers and widen the scope of your audience. Since it's part of the Instagram shop feature, customers can tap the product tag and buy a product similar to a standard shoppable post.
Use Instagram Shopping Ads
To widen the scope of your audience, you can leverage Instagram shopping ads to reach out to more customers. Instagram shopping ads. In this case, you can either create ads with product tags or check out. However, creating shoppable ads is a great way of not only re-engaging shoppers who have shown interest in your products but also finding new potential customers.
Now that you understand what Instagram shops entail, here are the benefits of setting up an Instagram shop.
Showcase Products to Potential Buyers
Besides exposing your products to your target audience, you can get your products to appear on the explore page if you use the right hashtags. This can yield impressive results since people who view your products on the Explore tab have a higher purchase intent.
Direct Product Promotion
Aside from deepening customer relations, Instagram is an ideal platform that you can use to connect with your audience. All you need is to create eye-catching content that appeals to the target market.
Remember the visual appeal of the products you share plays a critical role in influencing purchase decisions. The bottom line is that you should keep up with the current trends and focus on addressing the needs of your target audience to stay relevant.
Boost Conversions
Creating an Instagram shop not only makes it easy for people to access your products on the internet space but also improves conversions. Unlike websites that require aggressive marketing and high-quality traffic to generate sales, you can easily showcase your products in front of your customers and get conversions.
Conclusion
Setting up an Instagram shop comes with dozens of benefits for both individuals and established businesses. All you need to do is create appealing product posts that resonate with the target market.
Therefore if you haven't thought about creating an Instagram shop, it's high time you consider trying out one. Whether you are new to E-commerce or an established brand, you can leverage the Instagram shopping feature to network with prospects and widen the scope of your audience.
Otherwise, you don't have to worry about the cost of setting up a shop on Instagram since it's free of cost. You simply have to create an Instagram business account to get started.